By: Karina Melo
The cross-cutting approach to climate change, environmental conservation and the gender agendas has only recently been addressed in academia and public policies. However, for centuries, women, mainly indigenous, traditional and rural, have played a fundamental role in the protection of nature.
In addition to recognizing their contribution for the preservation of biodiversity, it should not be ignored that women are the most susceptible to the impacts of climate crises, a vulnerability that must be considered in the design and implementation of initiatives aimed at mitigating and adapting to climate change and promoting environmental conservation.
Impacts on Women of Climate Change and Predatory Exploration of Natural Resources
Women face several challenges related to climate change and predatory exploration of natural resources. For instance, in the Southern Hemisphere, women are the main providers of water and food for their families, so they are the first to feel the consequences of the unavailability of these resources [1].
Also, it is known that the introduction of infrastructure and extractivist ventures in areas close to indigenous and traditional territories leads to an increase in cases of sexual abuse, human trafficking and other forms of gender violence, being indigenous women and women of colour the most affected [2]. Furthermore, approximately 80% of climate refugees are women, representing 20 million women out of a total of 26 million climate refugees in 2009 [3].
For those reasons, indigenous, traditional and rural women constitute a priority attention group in the impact assessment of environmental disasters. Thus, public policies and civil society initiatives that intend to deal with the increasingly challenges imposed by climate change must include intersectional measures with a gender bias not only because women are the most impacted by these events, but above all due to the fundamental role played by these women in the conservation of biodiversity.
Importance of Indigenous Women in Biodiversity Conservation
Despite not being considered by most public policies and governments' social and environmental programs, it is known that ""indigenous knowledge, although new to climate science, has been long recognized as a key source of information and insight in domains such as agroforestry, traditional medicine, biodiversity conservation, customary resource management, impact assessment, and natural disaster preparedness and response"[4].
The area inhabited by indigenous peoples corresponds to 22% of the Earth's surface, and this territory is home to 80% of the global biodiversity, protected for generations by native peoples [5]. In fact, the ancestral strategies adopted by indigenous peoples to monitor their territories have proven to be more effective in conserving biodiversity than the establishment of protected areas [6].
In the context of the nature protection strategies that have for centuries been implemented by the original peoples – and which rely on the demarcation of their territories to be successful, we stress that women play an even more special role for environmental preservation. For instance, initiatives as the Xingu Seed Network [7], composed by women seed collectors from the Brazilian Amazon, illustrate how women lead the actions responsible for maintaining biodiversity and, consequently, food security. This is just one example that emphasizes the importance of women in agriculture: in the countries of the southern hemisphere, they are responsible for between 60% and 80% of food production [8].
Moreover, in indigenous cosmovisions, women have an intrinsic relationship with their territory so that, through their roles as caregivers, healers and guardians of water, biodiversity and culture, they hold a deep Traditional Ecological Knowledge (TEK), which is consolidated as an indispensable tool for mitigating and adapting to climate change [9].
Roles and Scopes of Action of Indigenous Women in Environmental Conservation & Defense of Indigenous Rights
There are at least three spheres in which indigenous women act directly in initiatives that combine traditional knowledge, social innovation and an intersectional approach from their very own gender perspective for the defense of their rights, territories and environment: 1) in their families and communities, 2) in social movements, and 3) in institutional politics.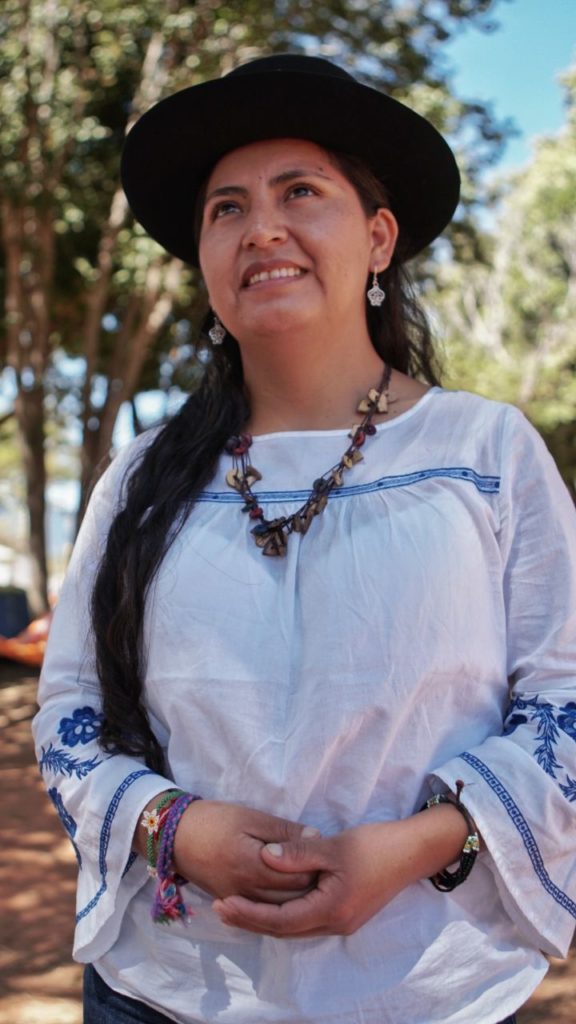 Firstly, at the community level, indigenous guardians and warriors play a decisive role both in monitoring their territories against illegal invasions, with active participation in patrolling and territorial surveillance groups, and also in raising awareness about the importance of environmental preservation, an activity promoted door to door in communities in and around their territories.
On the protection of nature promoted by indigenous women within their territories, Nemonte Nenquimo, indigenous leader of the Waorani Community of Nemonpare of Ecuador, and member of All Eyes on the Amazon through Ceibo Alliance, markes out:
"Our ancient cultures always lived in harmony with nature. The role of indigenous women is very important because we are mothers, we are women, we have a connection with the land, with nature. As indigenous women, we need nature for running, drinking water, making handicrafts and making paintings with the land. So the role of indigenous women for life is very important. Without our territory, we would not exist. Our role is very important, because the land is like the mother who gives us food, who gives us everything" [10].

Nemonte Nenquimo
Secondly, in social movements, indigenous women are increasingly taking part in decision-making spheres, an empowerment with clear repercussions on the agenda of these movements. In Brazil, two of the largest national indigenous movements have women in their leadership: Sonia Guajajara is the Executive Coordinator of the Articulation of Indigenous Peoples of Brazil (APIB), and Nara Baré is the first woman to lead the Coordination of Indigenous Organizations of the Brazilian Amazon (COIAB).
Certainly, the presence of women in the leadership of these organizations was a catalyst factor for the promotion of the first Indigenous Women's March in Brazil, organized by APIB in collaboration with COIAB in 2019 and which, with the theme "Territory: Our Body, Our Spirit", gathered more than 3,000 women and promoted debates on indigenous and land rights, violence against indigenous women and the empowerment of indigenous women, among other topics.
Finally, in the institutional politics scenario, we have recently observed unprecedented elections of indigenous women in the national parliaments of several countries in Latin America. This representativeness is essential to ensure that indigenous peoples' cosmovisions are considered in the formulation of policies and laws, including the perspective and idiosyncrasies of indigenous women in the national political debate and, most importantly, with inputs from their own experiences and field knowledge.
These parliamentarians acknowledge that in order to overcome the double challenge of their roles in politics – as women and indigenous, they must promote a work based on the exchange of knowledge and networking. Thus, also in 2019, the first Meeting of Indigenous Congresswomen of Latin America was held in Peru, which had as one of its thematic axes the role of women in protecting the rights, territories and natural resources of indigenous peoples.
On the occasion, the then Peruvian Congresswoman Tania Pariona pointed out: "One may say that environmental violence is not gender violence. But it indeed consists on violence against women, as it is the women who have to put their bodies to defend water, the land, the air, the resources, besides being also those that are linked to the agricultural activity" [11].
Conclusions
The formulation, implementation and assessment of public policies and civil society initiatives directed towards biodiversity conservation and mitigation of climate change must comprise an intersectional gender approach, especially focused on indigenous, traditional and rural women, given that they are the most vulnerable to the effects of deforestation and predatory extractive activities. In order to be successful, those processes must consider not only the impacts that specifically rely further on those women, but they also need to provide measures to grant their informed, active and continuous involvement.
Nonetheless, the participation of indigenous women in these spaces is not only necessary due to the greater impact they suffer from a neoliberal and neocolonial approach that allows for an irresponsible exploration of resources in and close to their territories. The presence of indigenous women in the decision-making arena of social and environmental initiatives, whether from the government or civil society, is also crucial as they hold the very key to the effectiveness of nature protection actions [12].
The intrinsic relationship between indigenous women and Earth, a perspective derived from their cosmovisions, must not be taken for granted and is imperative that their traditional knowledge, which climate science has only recently taken into consideration, becomes progressively incorporated into public policies and civil society initiatives as an effective strategy for the protection of nature with a rights focus.
---
References
UNFPA. State of the World Population 2009: Facing a Changing World, Women, Population and Climate. 2009.

Women's Earth Alliance. Violence on the Land, Violence on Our Bodies. 2016.

Women's Environmental Network. Gender and the Climate Change Agenda: The Impacts of Climate Change on Women and Public Policy. 2010

Raygorodetsky, Gleb. Why Traditional Knowledge Holds the Key to Climate Change. 2011.

World Bank. The Role of Indigenous Peoples in Biodiversity Conservation. 2008.

Rights and Resources Initiative. Cornered by Protected Areas: Replacing 'Fortress' Conservation with Rights-based Approaches Helps Bring Justice for Indigenous Peoples and Local Communities, Reduces Conflict, and Enables Cost-effective Conservation and Climate Action. 2018.

Marimon, Alessandra Schwantes. Forest sowing women: the communication processes of women collectors in the Xingu Seed Network. 2018.

UN Food & Agricultural Organization. Women and Sustainable Food Security.

IUCN. Traditional knowledge key to conserving biodiversity. 2010.

Nenquimo, Nemonte. Interview to Hivos during the First Indigenous Women's March of Brazil. 2019.

Demirdjian, Stephanie. Primer Encuentro de Parlamentarias Indígenas de América Latina puso el foco en "la lucha contra las violencias". 2019.

Agarwal, Bina. Does Women's Proportional Strength Affect their Participation? Governing Local Forests in South Asia. 2010.